Virtual Reality: What is and Why it's about you.

$4.8 billion is Virtual Reality 2018 estimated turnover.
It's a huge number and I believe it's time to get familiar with Virtual Reality.
What is Virtual Reality and how does it work?
Basically, the VR is based on:
Video Content, made with a camera that covers the whole visible spectrum (360 ° x 180 °) and mounted in a spherical video
Goggles, that can be cheap like Google Cardboards or ultra-tech as Oculus Rift & Samsung Gear
Beyond the software and hardware specifications, VR creates an immersive and realistic experience, involving all of us "as if": as if we were in Bali / in the surgery room / driving the car / happy …
The VR is relevant for us because it's about us, it deals with the world we live in and the way we experience it.

While waiting for VR to go mainstream, we can enjoy some very interesting applications.
Journalism & NGOs
In October 2015, the New York Times has released its first VR-documentary on emigration, "The Displaced", and gifted cardboards to its press subscribers.
I have tried the app: despite my tools aren't super-performing, the experience has been impressive and exciting:
I've been immersed in that journey, alongside the people, and the places they pass through.
The interaction is the key and being actively involved really makes a difference.
To date, the NYT is the first publisher to have a team dedicated to VR, but the journalistic potential is limitless.
Similarly, I believe that VR can also serve well for NGOs, to raise people's awareness about war and poverty.
One thing is to see a flat picture or a video, another is to be inside the video.
Tourism & Culture
Thanks to VR you can visit any place: you can see in advance your next vacation spot or the new home of your favorite museum in New York.
If you work in a museum or are curating an exhibition, you may plan a launch + vernissage in VR, creating thousands of interactions without geographical limits.
The Marriott hotel group  launched its VR platform VR Postcards, made of travel stories in which people can immerse themselves, following the route of the traveler and listening to his travel stories.
This is a beautiful spot on content marketing: the journey allows us to expand our horizons and experimenting it with VR allows to push even further the imagination and fantasy.
Health & Education
On April, 14 , the surgeon Shafi Ahmed has made world's first live virtual reality operation.
Dr. Ahmed is also the founder of Medical Realities, a group that provides medical training by exploiting the potential of VR and Augmented Reality.
Billion people worldwide have no access to adequate surgical care:
The opportunity to learn techniques and lessons from the best hospitals being immersed in a real surgery room, seeing doctors, nurses and operators operating in a real world can have a revolutionary impact on a large scale, helping to spread knowledge and bridge the big gap in access to health care.
Psychology
The "as if" mode can be useful to support the psychologic therapy of people suffering from mental diseases like depression.
The University College of London conducted a study with VR, making people try emotionally charged situations.
It emerged that the immersive experience can make you feel real feelings and could help change the way we approach our daily problems.
Clearly, this is only one experiment and the matter is very complex and delicate.
If the benefits were scientifically confirmed, this approach could have a positive impact of large-scale, considering that 1 in 4 people deals with mental health issue.
Branding & Marketing
The VR opens endless branding possibilities in all sectors; the only limit is your imagination.
A great challenge for marketers is to create experiences that involve and excite people.
VR is perfectly suited to the purpose and can reinforce the brand positioning creating a valuable experience that makes the brand stuck in the minds of people.
Some of the major brands that have "early adopters" in their demographic target are creating beautiful experiences in areas very far between.
Sport
The United States Soccer Federation unveiled its rebranding with a presentation in VR.
Retail

The North Face offered its customers a run on the sleigh at the South Pole, using Oculus Rift, followed then by a real sleigh ride in one of its flagship store in South Korea.
Coca Cola has prepared a VR sleigh ride, for aspirants Santa Klaus in Poland.
In New York has recently been opened Samsung 837, a "flagship place" that doesn't sell products but combines the best of culture, technology and fashion, and where you can see demos, workshops and try the latest of VR.
Ikea makes you try your next kitchen, interacting with objects and even seeing it from the point of view of a child!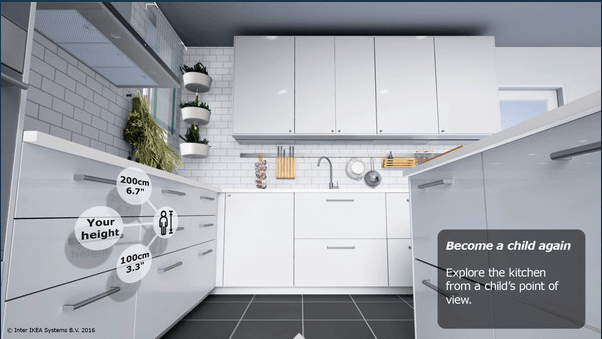 Automotive
Volvo launched in the XC90 SUV VR test drive 

Personal Branding 
Michelle Obama has made a VR video to explain her success on social media, while Paul McCartney brings you on the stage with him during one of his live performance 🙂
I am thrilled to discover the next development of VR and I am sure we'll see great things even in architecture, cinema, courts, theaters …
And in every sector about us.
Credits featured image: https://www.flickr.com/photos/sergesegal/16557989017 Under CC BY-SA 2.0