My letter to Santa Claus, I confess, is a Wish List on Amazon, that I reviewed and shared this morning.
Sadly, I have noticed that Amazon Italia does not yet allow Italy to give Kindle ebook to a friend.
It's a pity, both for us "givers" and for the brand itself.
I say this because in 2013 I was excited opening my first ebook given from the US.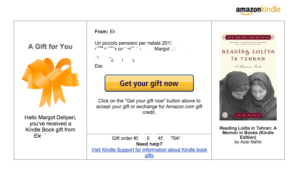 It came from a dear friend of mine, who lives in the USA and usually the "gift logistics" is a little complicated, because of shipments, time and customs duties.
One morning, upon awakening, I found the message of her gift and after only a couple of links* I was reading my new book, excited and emotional.
I am so sorry that Amazon Italy does not exploit this opportunity, instead offering clear benefits for both customers and for the brand.
Reinforce its mission, saving buyers precious time, on all its products
Increase sales, and what opportunity is more profitable than the Christmas period? "OMG, only 7 € for a book with instant delivery (or programmed), won't I buy a little gift to Tom?"
Would have a likely positive effect on not-yet-customers who convert, after having a pleasant shopping experience and a good response from the recipient
But above all, strengthen brand awareness through the emotion of the gift and the relationships between people, conveyed, in this case, from its products.
Practically, branding for free, simply by extending the possibility of purchasing and using the existing platform.
*How does it work
Once you got your gift, it's delivered directly to your Kindle or downloaded to your PC.
The sender can leave a message, the price is never shown to the recipient and, if you do not like the book, you can change it with a voucher of the same value.