While Safari iOS 9 integrates ad-block, Amazon is collecting pre-orders for the cheapest tablet ever, Kindle Fire, that will be sold at two different prices, starting from 59.99 € – 49.99 £.
Wow, so everyone can afford a brand new and reliable tablet?
This price discrimination is not related to technical specs, as I supposed when I first saw the product.
Instead, the cheapest version includes special offers, while the other one is ad-free.
Moreover, in the UK there's a six-pack promocode, buy 5, get 1 free, maybe suitable for educational purposes.
"The discount is valid only for the value of one Fire tablet with Special Offers (£49.99)."
The value of Ad-Freedom is 10 £ – 15€ /per item.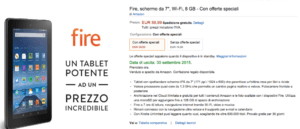 Some time ago we used to say:
'If You're Not Paying, You're The Product'
Are we shifting from the freemium model – free with advertising, premium without it – to a new model: cheaper with advertising, more expensive without it ?